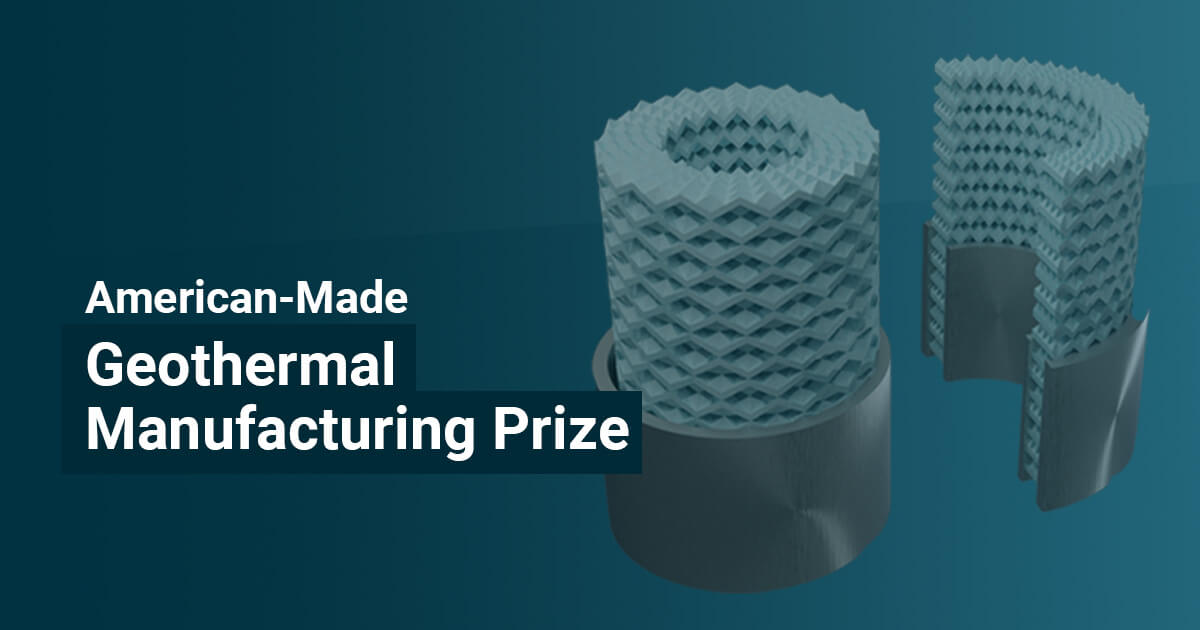 The winners were announced virtually on October 18, 2020 by Assistant Secretary for the Office of Energy Efficiency and Renewable Energy, Daniel R. Simmons, at the U.S. Department of Energy's Geothermal Resources Council's 2020 annual meeting and expo.
The Prize aims to "catalyze geothermal manufacturing innovation by harnessing the rapid advances in additive manufacturing" and consists of four stages:
Ready! – Concept development, with competitors demonstrating an impactful solution that incorporates additive manufacturing into a geothermal tool, component, or equipment.
Set! – Design of the advanced-manufactured geothermal solution in addition to team and partnership building.
Make! – Fabricate a prototype.
Geo! – Manufacture of advanced functional prototype will additively manufactured components fully incorporated.
As a Ready! winner, we'll have the opportunity to participate in a design workshop with ORNL Manufacturing Demonstration Facility (MDF) experts and receive concept design feedback with MDF staff prior to our Set! contest submission. We'll also receive our share of the first stage prize – $500,000 divided among the 15 winners.
A big thanks to our American-Made network partner, WorcLab, who have supported us during the application process.
Watch our application video submission:
Additively manufactured mechanical metamaterials for geothermal components
Our application focused on our mechanical metamaterials as a technology for improving Enhanced Geothermal Systems (EGS) equipment survivability in the extreme downhole environment.
EGS expose drilling and well development equipment to extremely harsh conditions that increase failure and drive up costs. Our initial Ready! concept is for additively manufactured steel and Inconel tubular components with interior metamaterial geometries that will increase the buckling threshold by about 40%, improving fatigue resistance in EGS, reducing failure rates, and mitigating costly downtime.
Mechanical metamaterials improving renewable energy efficiency
We understand the importance of renewable energy production. Our metamaterial technologies will be able to offer advanced manufacturing solutions to many of the issues affecting this important part of the energy sector.
Hydropower is renewable energy source that current comprises about 7% of U.S. power generation. Multiscale Systems has recently entered another American-Made Challenge, the I AM Hydro Prize, which aims to support hydropower by integrating advanced manufacturing technologies to lower costs, improve performance, and reduce manufacturing times (view our submission video).
The U.S. Department of Energy projects that geothermal electricity generation could increase to more than 60 gigawatts by 2050 – 8.5% of all US electricity generation – through technology improvements. We'll now be working towards our submission to the second part of the Geothermal Manufacturing Prize, Set!.
Latest News