What's a mechanical metamaterial? Where can I find technical information?
Find answers to common questions like these in our FAQs.
General FAQs
What are mechanical metamaterials?
K T
2020-10-20T10:38:09-04:00
Mechanical metamaterials are a class of structured materials designed with a wide range of optimized responses to external forces, such as improved strength, enhanced vibrational dampening, thermal efficiency, energy absorption, and more. They're created by embedding geometric patterns into common base materials, without chemical or molecular modifications. The base material is often metallic, elastomeric, or composite.
The metamaterial's overall geometric design, unit (or "motif") size, and orientation is generated and optimized computationally using kinematic analysis of mechanisms, homogenization theory, and full solid characterization. Optimized geometries are then embedded into a base material using 3D printing or other pattern transfer methods. The resulting physical properties are largely determined by the metamaterial's geometric pattern. In short, metamaterials allow us to engineer materials with properties not found in naturally occurring materials (see: Wikipedia article on metamaterials).

Technical FAQs
What is a mechanical metamaterial "motif"?
K T
2021-04-27T08:38:11-04:00
A motif is a single "unit cell" of a mechanical metamaterial. Metamaterial products are created by multiplying motifs to create larger sections, often in the form of blocks or panels. A final product may contain a single motif or combine several motifs, depending on the desired optimizations.
MetaCORE and MetaTHERM are single motif metamaterials that can be tessellated into larger sections, while MetaCORE-LD is MetaCORE in a sandwich panel form.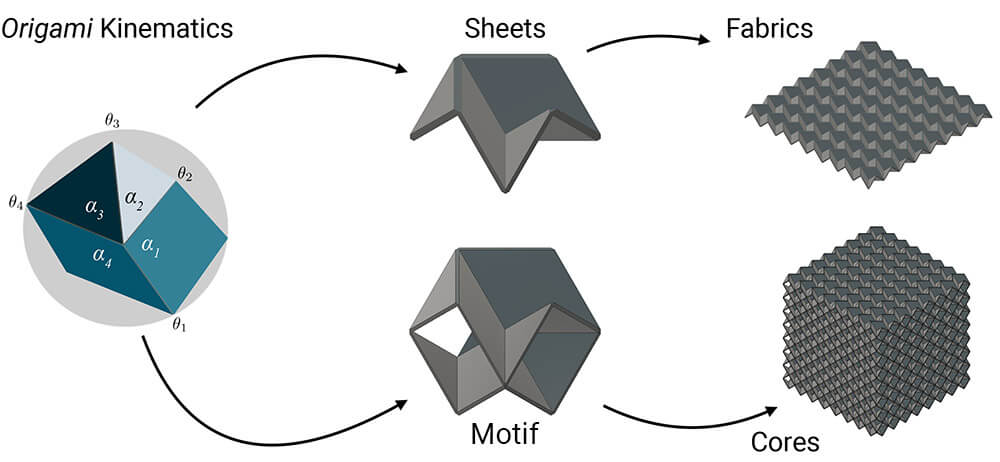 How to use and choose mechanical metamaterials
How do I choose the best metamaterial for my application?
K T
2021-04-27T10:06:13-04:00
"Bespoke" is a popular buzzword these days, but that's exactly what we offer our clients.
The beauty of Multiscale System's approach to metamaterial design and manufacturing is that it can be highly customized to suit a particular application.
The motif geometry (or multiple geometries), material, density, cell size, etc. all affect the performance of a finished mechanical metamaterial product.
We work directly with our customers to develop a product that will deliver the exact requirements for their specific need.
Check out our Metamaterial Selector tool to see solutions based on selected variables (material, density, etc.).
What manufacturing methods are compatible with metamaterials?
K T
2021-04-27T10:10:15-04:00
Metamaterials can be created using a range of methods, including:
Injection molding
Thermoforming
Casting
Milling
Pattern transfer
Additive manufacturing (3D printing)